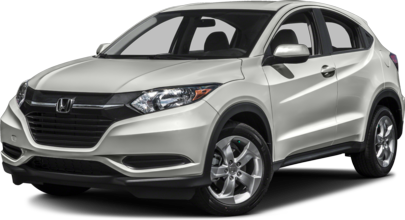 How Does the Honda HR-V Stack Up Against Competitors in the Minneapolis Area?
Here at Luther Hopkins Honda, we know that you're presented with a wide range of options when shopping for a safe, dependable and family friendly crossover. But, there's one model that stands above the rest and it's the Honda HR-V!
Brand new for 2016, the Honda HR-V is defined by its stellar safety record, all-weather capability and family focused, modern interior. That's why the Honda HR-V is the perfect compact crossover for commuters and families throughout the Minneapolis area.
Prepare to ride in safety, comfort and style in the HR-V's refined and feature-rich cabin. You'll enjoy exceptional visibility, ample cargo space and a plethora of next-gen tech features. Stay connected to your network with the HondaLink infotainment system that syncs your smart phone to a touchscreen display. Additional options include integrated navigation, push-button start, automatic climate control and beyond!
Of course, it's always safety first when it comes to Honda and the HR-V is no exception. You'll find peace of mind with driver assistance options such as the Honda blind spot monitoring, rearview camera and Honda LaneWatch, which displays the car's blind spot.
The HR-V is also a polished performer on the pavement. With an optional CVT, the HR-V engages a 141-HP four-cylinder engine to display powerfully efficient performance both on and off the highway. Available all-wheel drive helps the HR-V display road-gripping traction and control during wet and wintry driving conditions around Minneapolis!
As you'll find out below, the Honda HR-V proves to be a far superior crossover to competitors like the Jeep Compass, Mazda CX-3 and Subaru Crosstrek. Keep reading to learn more about the HR-V's best qualities and features:
2016 Honda HR-V vs. Toyota Prius
2016 HR-V provides more passenger room than the Prius.
2016 HR-V and Prius are comparably-equipped with features like a touchscreen display, blind spot monitoring, a power moon roof and much more!
As you can see, the HR-V is a far superior option than the Toyota Prius for Minneapolis drivers. You can take the 2016 HR-V out for a spin by visiting Luther Hopkins Honda to get started on a test drive today!
Honda HR-V vs. Jeep Compass
HR-V is available with driver assistance options like Honda LaneWatch and blind spot monitoring. Comparable features aren't offered by the Compass.
HR-V comes standard with a car alarm, trip computer, power windows and daytime running lights. None of these features are standard with the Compass.
HR-V is equipped with safety features like  4-wheel disc brakes, daytime running headlights and front/rear performance tires. The Compass doesn't come standard with any of these safety features!
Honda HR-V vs. Mazda CX-3
Enjoy much more passenger room in the HR-V than Mazda CX-3 (100.1 cubic ft. vs 87.6).
HR-V provides significantly more cargo space than the Mazda CX-3 (58.8 cu. ft. vs. 44.5
HR-V and Mazda CX-3 are comparably equipped with a touchscreen infotainment system and driver assistance options like blind spot monitoring and lane departure warning.
Honda HR-V vs. Subaru Crosstrek
Honda HR-V provides offers more passenger room and cargo space than the Subaru Crosstrek.
High-end HR-V EX-L is equipped with keyless entry with push-button start, navigation and a power moonroof. These features aren't standard on a comparable Crosstrek model.
Based on those facts alone, it's clear that the Honda HR-V outclasses the competition in terms of safety, performance, comfort and tech features. Find out more about the HR-V by visiting Luther Hopkins Honda in Hopkins, MN to get rolling on a test drive today!
Helping Minneapolis Drivers Decide between the 2016 Honda HR-V and Toyota Prius
Are you searching for a car that goes beyond fuel economy to improve your driving experience throughout the Minneapolis area? Then, the 2016 Honda HR-V is the perfect crossover for your daily driving needs!
Needless to say, the 2016 HR-V also puts a world of high-tech safety and entertainment options at your disposal. All HR-V trim options are equipped with a rear-view camera and a  5-inch LCD display while Honda's LaneWatch system, a power moon roof and navigation are among its many available options.
The 2016 HR-V is matched to an 141-horsepower, four-cylinder engine that allows the CUV to display lively power, agile handling a smooth ride quality. While the Prius is known for fuel economy, the HR-V bests the hybrid in nearly all other areas that are important to CUV drivers like you Keep reading below to see how the 2016 Honda HR-V outclasses the Toyota Prius!